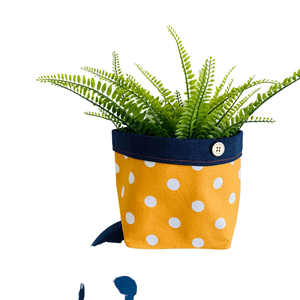 The perfect pop of colour to add even more personality to your indoor plants.  Lined with heavy upholstery canvas to hold its curved form.
Each planter also comes with a plastic planter tray so you can carefully water your plants whilst keeping the moisture away from the pouch.
The fabric placement may vary.  The colours have been captured as accurately as possible but please be aware this can  vary from screen to screen. 
Dimensions
Height - 19cm
Width - 17cm
Care instructions:
In the event you need to wash, wash by hand is preferable or on a cool cycle, reshape whilst damp.  Air dry, no tumble dry.
Steam iron if needed when nearly dry for best results.